Integrit Performance Uses Everfit's Integrated Features to Reach 5x More Clients
Weekends spent catching up on programming. Scattered communication with clients. Lack of brand identity. Patryk needed an all-in-one platform for Integrit Performance and his clients.
start 30-day free trial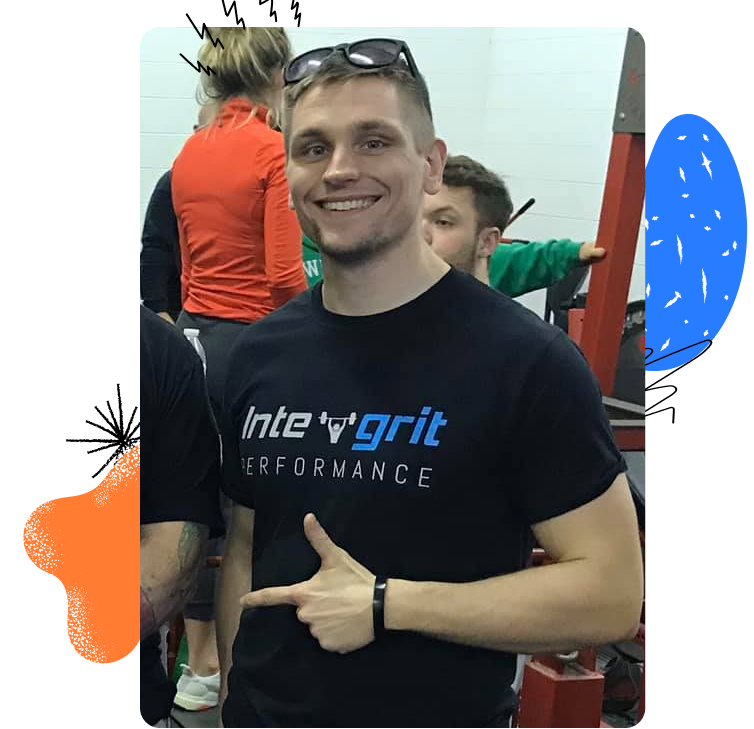 6x

Increase in revenue in first 3 months

5h/w

Time Patryk saves using automation features

5x

Increase in clients
Integrit Performance is an online fitness and nutrition coaching business owned and run by Patryk Piekarczyk. Patryk started Integrit Performance in 2019 with the intention of providing clients with a more personalized training experience. His method combines the expertise of various fitness professionals to deliver a program that integrates nutrition, strength training, conditioning, rehabilitation, and injury prevention. This holistic training approach allows Patryk to create all-inclusive, personalized programs for each client to help them successfully reach their goals.
| | |
| --- | --- |
| "A lot of trainers out there don't know how to program for anybody but themselves. A lot of trainers think, 'What would I do?' instead of 'What should this person do?'. We do a really good job at meeting people where they are at." | |
Before Everfit, Online Training was a Virtual Mess.
Patryk wanted to focus on programming effective workouts and training guides for his clients. But instead, he was:
Wasting hours typing workouts into messy Google Sheets 

Digging through YouTube looking for exercise demos to send clients

Trying to manage client communication across countless platforms

Brainstorming how to get people to take his brand seriously
Patryk knew this wasn't sustainable. There had to be a better way.
"We would make [the programs] block by block with increments of 2-4 weeks at a time. I would plan things out for months, but it would take a lot of time to write it all out. It's not a good long-term plan."
Streamlined Programming – with Everfit 
Problem:
Wasting time trying to program in Google Sheets
As Patryk's business grew, he found himself glued to Google Sheets for 8-10 hours every Sunday – making sure each client's programming was ready for the upcoming week. It was exhausting, not to mention inefficient.
Thankfully, Patryk discovered Everfit. 
Everfit allows Patryk to design standardized programs which can effortlessly be assigned to numerous clients while still being personalized. In just a few easy steps, Patrky can edit the workout based on an individual client's specific needs – without having to re-create the entire program. 
Everfit's easy-to-use workout builder and intuitive automation features save Patryk 5 hours every week by streamlining his programming. He now has his Sunday (and his sanity) back.
"Everfit has made it much easier to streamline the onboarding process and simplifies communication with my clients. The all-in-one aspects help a ton. It keeps everything centralized."
Personalized Exercise Library – with Everfit 
Problem:
No way to demonstrate proper form to online clients 
Patryk wanted his clients to execute workouts with proper form. However, there was no convenient way for him to find or share demo videos. Patryk often ended up sending clients YouTube links or posting videos on his website. But it was hard for clients to keep track of everything and their workouts were constantly interrupted as they searched for the right link.
Frustrated, Patryk turned to Everfit.
With an in-app library of over 1,500 exercise demos, Everfit now makes it easy for Patryk to attach a video to every assigned workout. Clients can watch the demo without leaving their workout tab and they can also read a full exercise description (provided by Everfit) if they want more form guidance. Additionally, Everfit enables Patryk to upload and store his own exercise demo videos and explanations. This lets him showcase his own unique exercises – like dimel deadlifts – while making sure clients use proper form.
Patryk finally has one exercise library in one app. Thanks to Everfit, he never has to rely on YouTube again.
"Everfit is always moving forward, innovating, always trying to improve the app. I just haven't seen anybody really try to do that to that extent yet."
Simplified and Accessible Communication – with Everfit
Problem:
Disorganized client communication
Patryk prided his business on personalization. But he couldn't keep track of the many client messages coming in through so many different platforms, such as iMessage, Facebook Messenger, Instagram, Snapchat, and WhatsApp. Patryk needed a better system.
And that's when he found Everfit.
Everfit's in-app messaging inbox allows Patryk to consolidate all client communication into one platform. He can check in on clients, send encouragement, deliver nutrition advice, or share additional information – without ever leaving Everfit's platform. What's even better? Patryk's clients can now comment directly on workouts and specific exercises in the Everfit app. This makes it easier for Patryk to spot clients who might be struggling and helps ensure that all clients reach their goals.
With Everfit, Patryk no longer has to stress about missing a client's message. Everything is organized in one place and he can communicate with more clients more often. 
"My clients would send me messages from different platforms, which was super annoying to me. Now I tell everybody to communicate through Everfit. Now I know where to find all the information I need."
Brand Identity & Legitimacy – with Everfit
Problem:
Lack of brand credibility 
The more Patryk tried to grow his business, the more he realized that people viewed him as a fitness professional but not a fitness brand. At times, this made it challenging to attract new clients and Patryk knew his business deserved better.
Everfit had just what he needed.
Utilizing Everfit's custom branding options, Patryk now displays his Integrit Performance logo within the training app. He also designs his client interface around Inegrit's unique color scheme to reinforce his brand. Now that he has a professionally branded digital asset, Patryk is able to promote his programs online with pictures of Everfit's interface – highlighting the legitimacy of his brand and business.
Patryk worked hard to create his business; Everfit helped him take it to the next level by increasing brand awareness and improving client perception.
"Before using Everfit, people would say, 'I didn't know it was a real business!' As though I ran it out of my garage or something. The logo gives me a good legitimacy standpoint."
What Patryk's Loves Most about Everfit:
Community Forum: Now Patryk can get the whole team together online and view who's lifting with Integrit Performance.
Custom Branding: Finally, Patrky has a cohesive brand that clients can trust.
The All-in-One App: Communications, programming, nutrition, and branding are all in one place now, just like Patryk's training philosophy
Hashtags: #exerciselibrary, #custombranding, #clientcommunication, #deliver1:1coaching, #delivergroupcoaching
Try Everfit Today
5-minute mile? Start training your clients in less time than that.
Train 5 clients for free
No credit card required