Alinea Performance Cuts Down on Admin Time by 50% with Everfit's Easy-to-Use Features
Joey was searching for a data-driven, easy-to-use software platform to meet the needs of his growing client base and that's when he discovered Everfit.
start 30-day free trial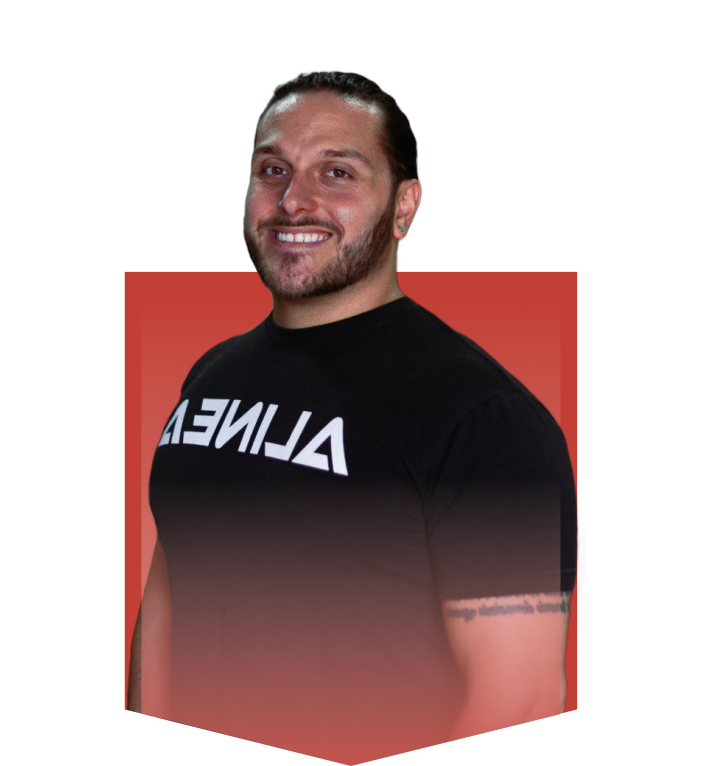 50%

Admin time saved

600+

Patients supported since 2018

18+

Coaches
Joey Rosi founded Alinea Performance in 2018 to bridge the gap between physical therapy and sports performance. As both a physical therapist and personal trainer, Joey designed Alinea to be the "trailblazer of the fitness community," helping everyday people improve their health, prevent injury and, ultimately, live longer. Alinea now employs 18 coaches and has helped over 600 patients and 180+ clients!
| | |
| --- | --- |
| "If a client comes to me, they shouldn't know when therapy ends and performance begins. It should be a constant continuum." | |
Before Everfit, Training Software was Complicated and Difficult.
When the pandemic hit in early 2020, Joey started searching for software that would allow him to continue training his clients online. But everything he came across was either uninformative, difficult to use, or simply non-aesthetic. There was no way to keep patient care consistent – and this frustrated Joey. He needed a new solution.

Modern, User-Friendly Features – with Everfit
Problem:
Unable to find a complete software solution
Joey experimented with a number of software companies in the past but found them all to be problematic. They were either too difficult to navigate, faulty, or lacked sufficient information.
Everfit was able to provide an easy-to-use solution that greatly improved the client experience, particularly for those less proficient with technology. 
The aesthetic appeal of the software also really helped to keep customers engaged on the platform for longer and was one of the stand-out benefits that drew Joey to Everfit.

Less Admin, More Growth – with Everfit
Problem:
Using overly complicated software
Previously, Joey found it hard to make minor adjustments to personalize client programs.
Everfit simplified this process, allowing Joey to effortlessly make small changes to programs, such as exercise order or selection, to deliver more individual-specific workouts.
As a result, Joey reduced time spent on administrative work by an astonishing 50%, enabling him to take on additional clients and scale his business.
With Everfit taking care of the busy work, Joey could spend his time focusing on higher-value activities, such as networking. And his efforts paid dividends, as he attracted around 100 clients by spending more time connecting and reaching out to people.

Improved Client Feedback – with Everfit
Problem
:
Finding an effective way to get feedback from clients
Joey believes feedback is all too often overlooked in training programs. With Everfit, Joey is able to conduct regular video reviews of his clients to spot movement limitations and understand any pain points. Clients can then rewatch their recordings and learn where to make appropriate adjustments to improve their form.
Everfit helps Joey analyze all of this visual feedback in one place, which has been a key advantage of his online training.
Moreover, at the end of each workout, clients are able to easily report how the session went and whether they experienced any discomfort. This immediate feedback informs the programming going forward, so clients can stay on track to achieve their goals.

What Joey Loves Most about Everfit:
Automation/Autoflow: The ability to seamlessly onboard clients and create a great first impression has helped Joey grow his business. And the pre-made programs and sections have been a huge time saver.
Alternate Exercises: If a client can't do an exercise, Joey simply uses one of Everfit's alternative options, making it easier to adjust or manipulate programs.
Workout Builder: Tempo settings, graded exercise tests, and programs based on percentages have made programming simpler and quicker for Joey.
Hashtags: #comprehensivetraining, #userfriendlysoftware, #personalizedtraining, #clientfeedback, #datadrivensoftware
Try Everfit Today
5-minute mile? Start training your clients in less time than that.
Train 5 clients for free
No credit card required